CAN Monitor Pro Software (Windows) for Lawicel CANUSB
CAN Monitor from WGSoft makes it easy to carry out tests and measurements with the CANUSB adapter. The software runs on all common Windows platforms (XP to 10 - 32 or 64 bit) and allows CAN frames with any parameters (ID, data length, speed) to be sent, received and logged.
CAN Monitor is available in two versions. The free lite version is limited to 11-bit identifiers, the inexpensive full version (CAN Monitor Pro) supports both types of identifiers.
Further differences are listed in the following table:
| Software features | Lite | PRO |
| --- | --- | --- |
| Fixed baud rates (10/20/50/100/125/250/500/800/1000 kbps) | + | + |
| Custom baud rates | - | + |
| Identifier filter | + | + |
| 11 bit identifier | + | + |
| 29 bit identifier | - | + |
| Send messages (number) | 1 | 5 |
| Repeat messages automatically | - | + |
| Predefined messages | - | + |
| Trigger (number) | - | 2 |
| Data logging | + | + |
| Save log file (* .csv) | - | + |
| save settings | - | + |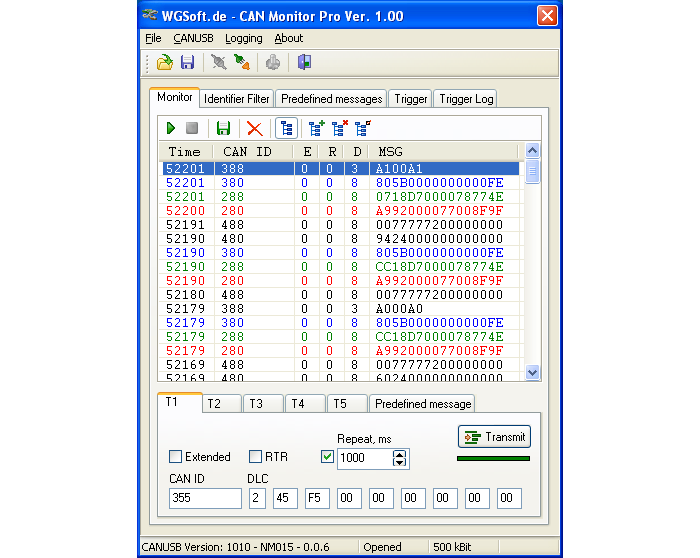 CANMON PRO
Product Code: CANMONPRO
Availability: 1000
Related Products
Tags: CANMON PRO